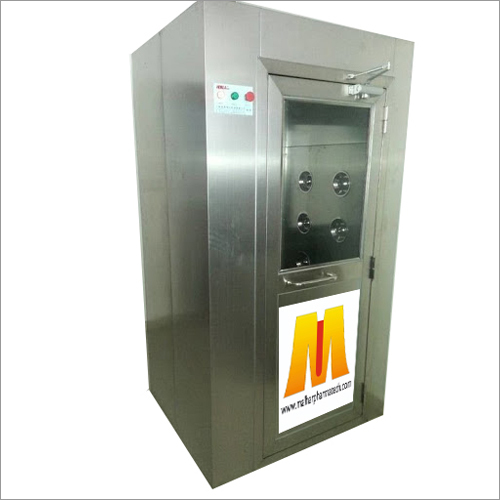 Vertical laminar Air Flow
Product Description
Door Handle 'D' Type for Open & Close
ON/OFF Switch & Socket
Door entry Straight entry Straight exit and 90 degree door opening
Air Adjustable Nozzle 30 mm Dia
Stud for Hepa filter fixing
SS 304 Sheet 1 mm Thik
" SS 304 doors with double walled flush glass view panels and door closer
Clear view Toughen Glass in door - 5 mm thik glass"
"Interlocking System to ensure that both the doors cannot open at the same time & to ensure that both the door stay locked during the time of air flow.
Time Setting for Air shower operation time (settable for 30 seconds to 5 minutes)
Emergency Stop will be provided"
"Hepa Filter 0.3 micron
Box Type,Moc:Aluminium,Media:Micro Fiber Glass,
Efficiency:99.999% down to 0.3 Micron,Grade:H14 "
DOP test port at upstream of HEPA filter integrity test.
Flourscent Light 36 watt
Magnehlic Guage 0-50 mm
Pin type Door Hinges
"Motor Blower designed of statically and dynamically balanced for supply of sufficient
capacity and static pressure to take care of airflow requirement for entire life of
HEPA
Double Shaft Motor Blower 1 HP,220 Volt ,2800 rpm "
"Fine filter 5 micron
Flange Type,Moc:Aluminium,Media:Non Woven synthetic Polyester,Efficiency:95% down to 5 Micron,Grade:EU5 "
"Blower genrated Nozzle Air velocity 4000-6000 FPM with 30 mm dia.Nozzle which
Effectively Cleans the surface of Object"
Other details
Size : 1200 x 1800 x 2000 mm
Capcity :6 person Entry Systems
Power : 1 phase
Contact Us
H. No.202, Raipada Talav, Shirgaon, Gadga Shop, Virar (East), Virar, Maharashtra, 401305, India
Phone :+918035918650