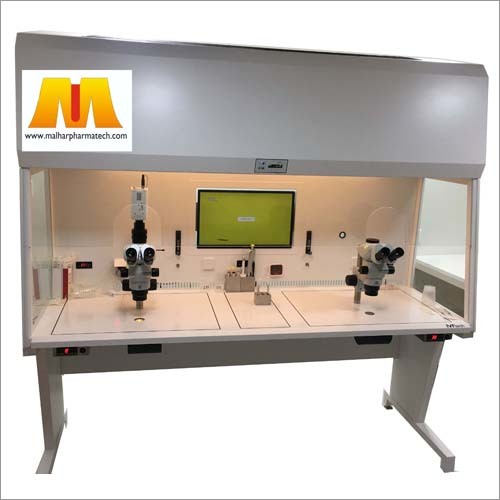 IVF Laminar Air Flow
Product Description
This blower is fitted with ¼ H.P. Motor and operates at minimum noise.
Interlocked and programmed to work only when blowers and fluorescent lamps are off and front window is fully closed
The Main Table and working area is completely made up of Stainless Steel SS304 grade.
All sharp edges and corners shall be slightly rounded
Microprocessor based control panel is located on the equipment
Laminar Cabinets are made of Mild Steel coated with rust resistant epoxy powder coating for the outside body and Filter assembly
Single phase 220-240 V 50 Hz AC induction motors with backward curve impellers
The screw threads shall be well and evenly cut and all threaded parts shall fit firmly without play
Epoxy Powder coated finish. All brass parts are chromium plated over nickel
All metal parts shall be finished smooth all over and shall be free from burrs, cracks or other manufacturing defects
Complete Made Of Stainless Steel With Acrylic Sheet Door & U.V. Germicidal Lamp Sturdily constructed in rustproof
Heavy gauge Mild Steel body for outside cabinet and Filter assembly and Stainless Steel SS304 for working table/bench.
"Hepa Filter 0.3 Micron
Box Type,Moc:Aluminium,Media:Micro Fiber Glass,
Efficiency:99.999% down to 0.3 Micron,Grade:H14 "
Other details
Size : 3 x 2 x 2
Capcity : Production capacity 03 nos per week
Power : 1 phase
Contact Us
H. No.202, Raipada Talav, Shirgaon, Gadga Shop, Virar (East), Virar, Maharashtra, 401305, India
Phone :+918035918650